Italy Dreaming
WHEN: November 30
COST: (AUD) Early Bird $580 till end September - Full rate $650 inc GST Book Now
Details
Video
Summary
Booking
Details
Would you love to be in Italy and immersing yourself in writing, art and culture plus attending workshops with outstanding teachers on a retreat? Well we'll take you there on this exciting new online retreat.
Over the period of one week we'll engage you in meet-ups with our hosts and teachers in Italy and Australia. With their expert guidance and inspiration you'll create your own hand made book and unique Italy Dreaming story using short form narratives and collage artworks.
In the 2nd week you have time to collate and finesse your work and there will be opportunities to consult with Jan Cornall and our teachers before completing your book.
This exciting project will bring your memories and dreams of Italy alive as you actively engage with our teachers and hosts and as Luisa takes you into palazzos and homes, studios and galleries and out onto the streets of a medieval village in Italy. You are invited to cook some Italian recipes we will provide and drink the vino or occasional Prosecco we recommend.
Residency option
If you can travel within NSW and would prefer to be together with other participants in Brunswick Heads NSW for the first 6 days, we understand, and we can arrange an accommodation* and some meals as a package. >> ASK US
*If you are a local to the Byron Shire we will adapt the package to exclude accommodation.
Exhibit in Italy
On completion, you pack up and send us your book and we will exhibit your work in Italy.
" Artists can become writers and writers can become artists. " - Jan Cornall
Zoom.
Sessions will be held via zoom and supported by online video tutorials and other media files with our hosts and teachers. 6 days of workshops plus 7 days to finesse your art before sending us your submission for exhibition.
Your Teachers.
3 Fabulous Teachers from 3 different countries.
Head Teacher. Writer/performer and workshop director Jan Cornall, Sydney Australia. Jan has written 15 produced plays and musicals, a feature film, a novel, Take Me To Paradise, and a collection of poems and stories, Archipelagogo. Awarded several grants and fellowships, Jan has an MA in Cultural and Creative Practice and has taught writing at writer's centres, community colleges and universities in Australia and Indonesia. With her company Writer's Journey, Jan mentors writers and leads international writing workshops and retreats. A number of writers working with Jan have gone on to publish with major publishing houses.
Collage. Artist and teacher, Naomi Vono (Desio 1982), is an Italian artist based in London. The artist defines herself as an "archival parasite, with no bad intentions". Her works combines different interests like photography, collages and illustration. Her research is focused on altering vintage and contemporary found images, creating a new interpretation of the original shots. Using pens, paper, 'washi' tape and stickers she gives to every image a new life. Every work is basically composed of three elements: her life background, her inspirations and subconscious, that is also the glue that puts all together.
Naomi is regarded as one of Saatchi's top emerging young artists.
Book making workshop and gallery owner. Brunella Baldi is an artist, art teacher and "Cartavetra" gallery and "laboratorio" owner in the famous artisan area of Santo Spirito in Florence, Italy. Brunella will provide guidance and support in creating your own concertina book and artworks for our exhibition.
About your Hosts.
Jennifer Richardson, director and curator of The Create Escape has spent the last 15 years visiting Italy and has provided 100's of creatives with inter-cultural and educational collaborations. Prior to founding The Create Escape, Jennifer worked as an art director, graphic designer and marketing consultant. She is also a passionate cook.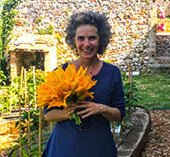 Luisa Donati our Italian Partner and Host lives in Florence, and works with her family on their properties of Montestigliano near Siena and Palazzo Donati in a wonderfull medieval village in Le Marche. She organises Tuscan weddings for guests, art exhibitions and hosts unique and authentic Italian experiences for her guests. The Create Escape has partnered with Luisa and the Donati family for the last 12 years and we have held Singing in Siena for 10 years and Making Music in Mercatello, Sensing Italy (writers) and Sketch Paint and Make all in the family Palazzo in the village of Mercatello.
By video and live streaming, our Italian host Luisa Donati (virtually displayed) will meet and greet us and will take us on a virtual tour of her village, Mercatello sul Metuaro, introducing us to local characters, cooks and artisans.
Luisa will tell us the story of how her family came to settle in the village of Mercatello and about the connection with the great author of medieval times, Dante Algheri! and her nasty ancient relative from 1300's Don't worry the family has grown to be hugely supportive of the arts in more recent times. She will tell us about the family, the village, the palazzo, the characters, and also about Montestigliano.
The Writing Component.
Short Form Writing Writer Jan Cornall will introduce you to short form writing (flash fiction, haiku, haibun, prose poetry). Short form writing distils narrative to its most essential construction in anywhere from one sentence to a few hundred words. Combining the 'spaciousness of prose with the lyricism of poetry', these offerings slip 'past barriers, boundaries and border lines', making them an excellent prompt for accompanying visual explorations in collage, line, paint and/or other mediums which will form the backbone of the creative journal.
Exploring your own Italy Dreaming Post WW2 Italians migrated in great numbers around the world, and it's meant most of us have had warm relationships with Italy and its people. Over the course of this course we will explore our memories, associations and impressions that make up our own 'Italy Dreaming'.
But how different is our imagined/remembered Italy from the real thing? Collage Artwork Naomi Vona will inspire you with her very unique creative methods and techniques. The story is all yours, so whether you are tapping into memories from the past or more recent times you will be encouraged to source and print images from photo libraries, magazines or your own photo albums.
We will supply you with a package of equipment to use to make your artworks. Hand-Made Book Brunella Baldi from Cartavetra will guide us with hand making our own concertina book. Evening soirees There will be some evenings where you will get a chance to read or 'read or show and tell' what you've been working on during the day via zoom in a totally non judgemental environment. We will supply you with a suggested menu for the week and send you recipes ato follow so there will be an opportunity to share a meal together following our 'read or show and tell'.
Time table (AEST) Zoom meetings
Day 1 Monday.
EVENING 6 - 7:15 pm Meet & Greet Aperitivo with the group and the team including brief introduction by Jennifer, Jan, Luisa, Brunella and Naomi. Note: Jan to run through an overview of her mentoring and guidance for the week and Luisa to give a welcome to Italy and Palazzo Donati, Brunella to give a short explanation about her gallery and 'laboratoria', workshop space and prep of materials for the workshop. Naomi will give a short explanation about her background and where she is and why she gravitated towards her collage art. She will prepare us for a workshop on Sunday. Jen to answer any questions about the suggested menu for the week.
Day 2 - Tuesday.
MORNING: 11am – 12:30pm Zoom with Jan - working with the sense of sight.
6 - 7 pm Workshop with Naomi Vona – colour and collage
Day 3 - Wednesday
MORNING: 11am – 12:30pm Zoom with Jan – working with the sense of touch and texture
EVENING: 6pm - Handmade concertina Bookmaking workshop with Brunella

Day 4 - Thursday
MORNING: 11am – 12:30pm Zoom session with Jan – working with the sense of taste
EVENING: 5:30-7:00pm Virtual soiree with any readings or showing of artwork. Jan to give some guidance and Naomi to give any assistance to anyone with questions about collage. Luisa to give another virtual tour through slideshow
Day 5 - Friday 11am – 12:30 pm Zoom session with Jan.
5:30 - 7:30pm Evening - Virtual soiree with any readings or showing of artwork. Naomi and Brunella are invited to join us.
Day 6 – Saturday - 11am – 12:30 pm - Zoom meeting workshop with Jan
EVENING: 7 – 8pm Dinner with the teachers and the group

Day 7 - Break till - Day 14
One on One mentoring sessions with Jan and Naomi available $120 per one hour session.
Jennifer will be available to give feedback or answer any questions.
Exhibitions
Actual and virtual exhibition at Cartavetra Gallery in Florence, Italy, The Granary at the Montestigliano Estate and Mercatello Sul Metauro, Le Marche district, Italy.
Future Residency in Italy When travel restrictions are lifted, participants will be offered the chance to take part in Italy Dreaming Residency Part 2 at Palazzo Donati in Mercatello sul Metauro and attend the exhibition of their work in the village and/or at Cartavetra Gallery in Florence.
Video
Summary
Booking