Collage Art and Writing Retreat in Italy
WHEN: 25 June–2 July, 2022
WHERE: Palazzo Donati, Le Marche, Italy
COST: Early Bird €1750, € 2150 (after 1st March, 2022) Wait List
Details
Accommodation
Map
Video
Summary
Booking
Details
For artists all levels
The Create Escape has proudly collaborated with Naomi Vona from London (and Italy), Jan Cornall, from Sydney (Australia) and Luisa Donati of Palazzo Donati to design this exciting collage art and story telling workshop holiday in Italy for you.
You'll spend 7 nights, 8 days in the charming medieval village of Mercatello sul Metauro, Pesaro/Urbino, Italy where you will immerse yourself in an extraordinary Italian village experience as you learn new ways to bring alive pictures and stories from the past. Suitable for artists and writers of all levels.
Stay in the historic and grand old family home of the Donati family, Palazzo Donati with our host Luisa Donati
Take part in daily collage workshops with Naomi Vona that will guide you on how to turn pictures and postcards into art.

Jan Cornall is offering two very inspiring and nurturing sessions via zoom that

will help guide you to find your own unique story.

Get to know the locals and explore this beautiful medieval village at your doorstep.
Take a workshop with local artist Stella Rossi in her home in the forest and learn how to make paints from flowers.
Explore the Unesco protected town of Urbino and the extraordinary Palazzo Ducale.
Experience an outstanding banquet dinner or two cooked exclusively for us by local cooks who are passionate about local food, wine, music and good laughter
Eat truly delicious local food. *This area is a paradise of porcini mushrooms, tarfufi (nero and bianco), strozzapreti pasta (strangle the priest!), cheeses and local wines.
You may even wish to discover a little about the connection of an ancient relative from 1300's of our host in Mercatello and the great author of medieval times, Dante Algheri!
More About The Location
We will be staying in Palazzo Donati in the village of Mercatello sul Metauro in La Marche.
Many travelers have enjoyed the delights of Tuscany, but relatively few have discovered and experienced the unique charms of its' warm and welcoming neighbours in Le Marche, Le Marche is in the eastern side of central Italy nestled between Tuscany, Emilia‐Romagna, and Umbria.
This region is renowned for some of Italy's most delicious food. Think of food gathered from the wild; mushrooms, game, nuts, field herbs and – the area's greatest culinary treasure – truffles are an important feature in the Marche. And of course, pecorino cheeses, olive oil and wines.

You'll soon find out why Jamie Oliver, Heston Blumenthal and Gennaro Contaldo all LOVE this region, these people and indeed this village.
The Art Workshop
Immerse yourself in fun and engaging workshops with Naomi and enjoy an extraordinary Italian village experience.
Naomi will lead the workshop offering guidance and knowledge of her processes and techniques for manipulating images.
During this week we will focus on characters from the area of Urbino/Pesaro during the 'Renaissance period' for example – The Duke and Duchess of Urbino, and retell their stories through our collage artworks with our own current day twist!
A variety of unusual colourful materials will be used as washi tape, stickers and pens, including vintage photographs and postcards.
Morning workshops will include exercises and feedback sessions.
Cocktail hour 'sharings' will be fun and supportive.
A variety of unusual colourful materials will be used as washi tape, stickers and pens, including vintage photographs and postcards.
Materials supplied
Postcards or prints of characters for you to choose from
White paper (print paper of any kind, to test out colours combination)
Cutting board
Cutter or scissors
Washi tape, or mt tape
Acrylic pens as Posca pens.
Gel pens
Stickers
Other Activities
Walk to the exquisite tiny village of Pieve della Castello – where the plot to exile Dante Aligheri from Florence was planned in 1301.
Depending on availability we may walk to visit an internationally-celebrated sculpture/artist Pasquale Martini to enjoy his sculpture garden.
Optional extra: *Cheese making workshop with Paola The Cost would be €25 pp
The Writing Workshop
There will be two writing sessions with Jan Cornall (in Australia via zoom). Jan's unique teaching methods are both gentle and inspiring and designed to assist you in formulating a story for your image book.
About Naomi Vona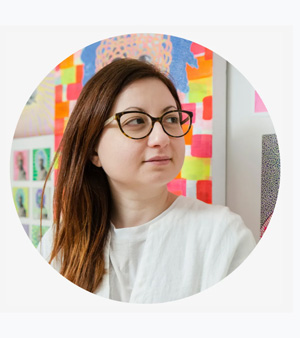 Naomi Vona
is an Italian artist based in London who works in a variety of media including photography, collages and video art. Her latest work is focused on collage, where she works with vintage found vinyl covers, photos and postcards to create new context for the original shots. Using pens, paper, coloured tape and stickers, Vona transforms each of her collages, inspired by her personal background. Says the artist of her practice, "I consider my collages a reflection of my past and present, but they also allow me to keep a curious look into an imaginary future."
Naomi has exhibited her works in several group and solo shows including Kimball Art Center, Park City, Utah, Eight Gallery, Dublin, Luan Gallery, Athlone, Ireland, SOMArts Cultural Centre, San Francisco and Art Museum MARCA, Catanzaro, Italy. Her work has been published in Curve Magazine, Gianna Magazine, Kaltblut Magazine and The Commission, amongst others.
Naomi is regarded as one of Saatchi's top emerging young artists.
About Jan Cornall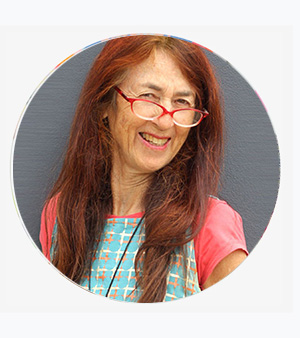 Jan Cornall of Writer's Journey supports writers and creative artists of all genres through the long process of realising their artistic goals, through international writing and creativity workshops, journeys and mentoring services.
Based in Sydney, Jan has been awarded a number of grants and fellowships for her work and has written plays, musicals, screenplays, a novel, a collection of stories and poems and three CDs of songs.
Jan also loves to sketch and make artist books.

Browse Jan's work portfolio here. ... More
With a Master of Arts in Cultural and Creative Practice Jan has taught creative writing for nearly two decades at writer's centres, community colleges, universities (UTS, WSU) and writer's festivals in Australia and Asia. Using a technique she has developed called Meditative Writing, Jan takes writers deep into their creative source.
Dedicated to nurturing the unique attributes of each writer, her writing workshops produce startling results. Each year a number of Jan's first time writers go on to publish with major publishing houses.
Getting to us
Pick up point - Florence (Peretola Airport), Italy.
ARRIVAL DATE: 25 June 2022
PICK UP TIME: Midday - 12 o'clock
WHERE: Meet our host in the carpark area - map to be provided
STOP: Palazzo al Pere to grab a caffè, panini and use the rest rooms
ARRIVE: Palazzo Donati at 2:30pm
- driving in a minivan or bus up to Mercatello sul Metuaro short stop on the journey. It's 2.5 - 3 hour drive
________________________________________
DEPARTURE DATE: 2 July 2022. We will depart from the Palazzo Donati at 11am
DROP OFF TIME: 3pm approx. We will stop for lunch on the journey back to Florence
DROP OFF POINT: Florence (Peretola) airport carport.
________________________________________
NOTE that if coming from Australia or New Zealand we recommend you arrive in Europe a few days before our event begins so it will give you time to recover from jetlag and you can be ready to begin the workshop and start the fun.
Accommodation
Palazzo Donati is a magnificent building located in the main square of the quaint and quiet village of Mercatello Sul Metauro, deep in the green hills of Le Marche.
Crossing the entrance door of this ancient palace of medieval origin means jumping in time and discover the authenticity of the Italian Renaissance. The long main corridor ends in a large internal garden, an oasis of peace among roses, fruit trees and ancient trees.
The Palazzo is divided into two parts, full of details and timeless charm, to be discovered climbing the large stone staircase leading to the first floor.

The left wing opens onto an elegant and spacious room, with Renaissance decorations while the right wing is formed by two floors. Composed of three double rooms and a bathroom, the left wing is perfect for moments of relaxing in the warm pastel colors.
The right wing is instead divided into two additional floors: the first floor consists of two areas used as a kitchen, one modern and the other with a rustic charm with an antique fireplace, from a formal dining room and two more informal areas, where you can spend pleasant moments in a family environment.

The first floor of the right wing of Palazzo Donati is also composed of two double bedrooms with 1 bathroom, a utility room with washing machine and iron.
On the upper floor, there are three double bedrooms, all with private bathrooms; the entire right wing is also equipped with central heating.

A fascinating place to spend holidays between slow rhythms, flavours and wrapping colours. The only issue here is having to pack up and leave....no-one wants to go!
"Benvenuto nel nostro palazzo di famiglia " - Luisa Donati
A village full of fabulous characters and timeless experiences –
---
COST
€1750 - EARLY BIRD cost at time of publication (8 December). EARLY BIRD rate expires on 1 March, 2022.
We take all major currencies via bank transfers and AUD is possible via Credit Card
€2150 - FULL RATE (Bookings made after March 1, 2022)
Single supplement: €400

Payment terms: Deposit: 30% of the full listed rate (excluding cash on arrival) is payable at time of booking to secure your place.
The Full invoice amount payable in full 60 days prior to event start.
Accommodation
Map
Video
Summary
Booking