Sailing - Dalmatian Coast, Croatia, 2017
WHEN: 13th August - 20th August, 2016
WHERE: Dalmatian Coast, Croatia
COST: $AUD2050 pp* plus port tax Book Now
Details
Accommodation
Map
Video
Summary
Booking
Details
Sailing, Food, Wine and Culture - Croatia
Sail with your RYA Yacht Master Skipper and experience the very best of the Dalmatian Coast and it's delicious food and wine.
You can also try to Stand Up Paddleboards.
Spot dolphins off postcard-pretty Scedro island.
Moor in secluded coves inaccessible to motorised boats
Experience Hvar's vibrant nightlife and the majestic Spanish Fort
Feast on fresh seafood in picturesque harbour konobas.
Visit Unesco Listed Stari Grad – home to it's excellent local vineyards
Korcula Town's unique architecture and history
Explore Vis Island by bicycle or scooter
The cost includes a guide plus daily breakfasts and lunch.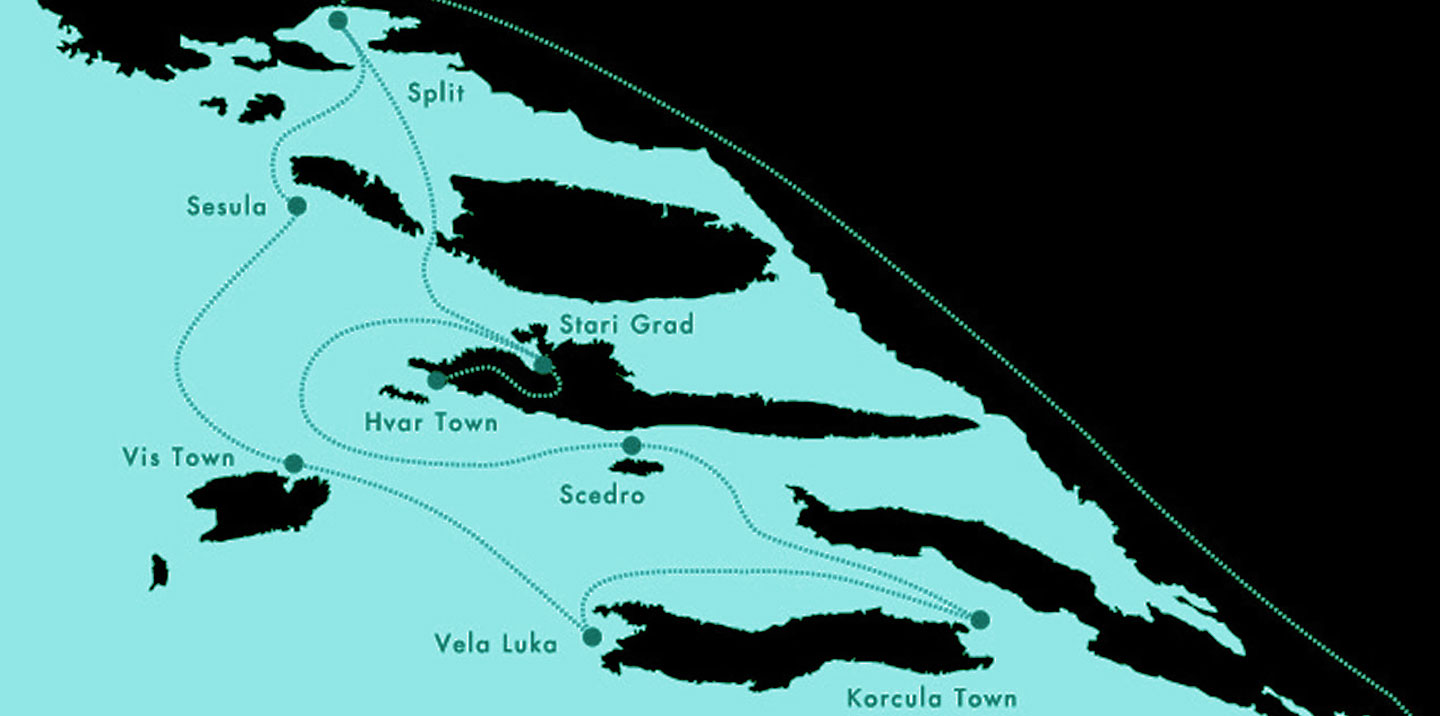 The central and southern Dalmatian islands of the Adriatic have long been a highlight on Croatian yacht charter, and offers the perfect balance of secluded bays where you can anchor in a tranquil, idyllic setting, while also enjoying the busier islands such as Vis, Hvar and Korcula; steeped in history, culture and nightlife. With over 1000 islands to explore Croatia's is ideal for the most novice of yacht goer and is ideal for a first trip.


Stari Grad
Stari Grad is one of the oldest towns in Europe, and is ideal to wander the timeless streets, browsing the many local craft stores and get a taste of the finest cuisine in Croatia. The town clock tower and monastery are highlights of the unique architecture and offer peaceful spots to while way the afternoon. A key feature of the area is the Stari Grad Plains, a UNESCO world heritage site, and is the ideal place to explore the towns signature vineyards and scenery. A short trip form here is Hvar Town, known for it's beautiful old fort, scenic surrounds and beautiful sunsets that have attracted celebrities and yacht elites for decades.


Scedro
Along the south shore of the island of Hvar there is the small island of Šćedro. Protected as a nature park, it is a beacon of untouched beauty and natural wonders. Scedro has long been well known as a safe harbour and so is very popular with the yachting crowd, with a beautiful restaurant serving delicious local fare. On the hill there is an abandoned village called Nastane, taking you back in time with picturesque stone houses and a glimpse of historic village life.


Korcula Town
Korcula Old is medieval walled city, positioned on an oval-shaped swelling of land pointing deep into the Peljesac Channel. The Venetian Renaissance architecture of the Old Town culminates in the splendid St Marks Cathedral, not to mention the intricate maze of streets surrounding it. Legend has it that Marco Polo was born in Korcula Town, with his house of birth sporting a panoramic view stretching from east to west. Korcula Island is also known for excellent wine, with local vintage Posip served at state and diplomatic banquets. Reminiscent of Dubrovnik, Korcula Town oozes Mediterranean charm, with a glamorous selection of bars ensuring a vibrant atmosphere.


Vela Luka
Vela Luka is considered one of the sunniest towns in Croatia with over 2500 hours of sunny weather annually, as well as being one of the largest towns in the Adriatic islands. The diversity and richness of the cultural inheritance of Vela Luka can be seen all around, from the natural wonder of Vela Spila, a prehistoric cave dwelling perched on the cliff tops, to the traditional Moreska Sword dance celebrated weekly in the town square. Enjoy a relaxed night exploring the town and partaking in some of the best cuisine in Croatia, with an array of restaurants and bars to choose from.


Vis Town
Moor here and take to the island roads to explore this magnificent island. As one of the driest islands in central Dalmatia, Vis is home to the best wineries in the region and are well worth exploring. Most notably the iconic Croatian Plavac grape will acquaint of a true Croatian delicacy. Alongside this, Vis Island is immersed in a long and varied military history. The bunkers and nuclear shelter dotted around the hills offer a real chance to discover the history of communist Croatia, while the seaside Vis Town allows you to kick back and relax, enjoy a coffee, explore the monasteries and wander the preserved Old Town.


Sesula
Croatia is known for its inviting and warm turquoise water, and nowhere else will you find this beautiful sight showcased better. The multitude of secluded bays and hidden coves will make for an ideal swim stop, or intimate evening under the stars. Sesula is revered as one of the top secluded bays, featuring stunning sunsets and an idyllic setting, rounded off by an excellent authentic Croatian restaurant. Highly recommended.


Split
Split is known as the second largest city and one of the oldest cities of Croatia. Recognized as being over 1,700 years old, the construction of the emperor Diocletian's Palace in 305AD put Split on the map, and this beautiful relic has continued to single Split out as a sailing holiday highlight in Croatia. The bustling cafes and boutique shopping available in the quaint cobbled back streets stand in perfect contrast to the local designer stores and award-winning restaurants on the tree lined promenade. Split is a perfect town to kick-start your Dalmatian voyage, or say farewell to the glistening Adriatic.
This is an ideal opportunity to unplug your computer and re-connect with yourself.
This will be a small group of 8 (max) plus crew.
*Please note there is a port tax of £60 pp. This payable before boarding your yacht.
Accommodation
Map
Video
Summary
Booking