Sensing Italy with Jan Cornall, 2024
WHEN: 4-15 June, 2024
WHERE: Florence and Palazzo Donati in La Marche, Italy
COST: Early Bird AUD $5300 plus €250 cash on arrival Book Now
Details
Accommodation
Map
Video
Summary
Booking
Details
For writers and artists
The Create Escape has proudly curated this exciting creative immersion with Jan Cornall, Sydney Australia and Luisa Donati of Palazzo Donati.
We begin the journey with a 3 day workshop in Florence staying in a convent and then we will spend 7 nights, 8 days in the charming medieval village of Mercatello sul Metauro, Pesaro/Urbino, Italy to continue your writing or creative activity project. Where you will also immerse yourself in an extraordinary Italian village experience. An ideal environment to bring the senses into your writing and art making.
Stay in a very beautiful convert in a central location in Florence for 3 nights, then the historic and grand old family home of the Donati family, Palazzo Donati
Take part in daily inspiring workshops with Jan .
Get to know the locals and explore this beautiful medieval village of Mercatello sul Metauro
1 x optional cooking workshop.
Visit local artisans in and around our village.
Explore the Unesco protected town of Urbino and the the very grand Palazzo Ducale and its gallery.
Experience an outstanding banquet dinner or two cooked exclusively for us by local cooks who are passionate about local food, wine, music and good laughter
*This area is a paradise of porcini mushrooms, tarfufi (nero and bianco), strozzapreti pasta (strangle the priest!), cheeses and local wines.
More About The Location
We will be staying in a wonderful convent in Florence with a peaceful garden and yet close to the centre of Florence allowing you to see some of this magnificent city. Then we will be based in Palazzo Donati in the village of Mercatello sul Metauro in La Marche.
Many travelers have enjoyed the delights of Tuscany, but relatively few have discovered and experienced the unique charms of its' warm and welcoming neighbors in Le Marche. Le Marche is in the eastern side of central Italy nestled between Tuscany, Emilia‐Romagna, and Umbria.
This region is renowned for some of Italy's most delicious food. Think of food gathered from the wild; mushrooms, game, nuts, field herbs and – the area's greatest culinary treasure – truffles are an important feature in the Marche. And of course, pecorino cheeses, olive oil and wines.
You'll soon find out why Jamie Oliver, Heston Blumenthal and Gennaro Contaldo all LOVE this region, these people and indeed this village.
The Retreat
You have the option to start a new project, revitalise an old one or simply capture the experience in your chosen art form.
There will be daily creativity workshops and readings with Jan.
Time to work on your chosen project and time to explore the local surroundings and visit some artists and artisans who live in the village.
The Workshops
Immerse yourself in an extraordinary Italian village and explore the senses to enrich and engage your writing and art making project.
Morning workshops and cocktail hour readings/sharings will include meditative writing exercises and supportive feedback sessions.
Each day we will investigate a different sense — taste, scent, visual, auditory, texture with prompts also given for observing weather elements and times of day.
Participants will be encouraged to keep a creative journal — a daily diary of the senses where they can record encounters with people, places, food and wine of the region. Every sensual moment will be up for grabs as we learn how to turn our delicious indulgence into fine art.
Cooking workshops with Anna, Paola and Luisa, plus some special gluten free cooking classes with Jennifer.
Other Activities
Walk to the exquisite tiny village of Pieve della Castello – where the plot to exile Dante Algheri from Florence was planned in 1301.
Depending on availability we may walk to visit an internationally-celebrated sculpture/artist Pasquale Martini to enjoy lunch in his sculpture garden. Time permitted there is an option to do a simple carving workshop with him.
About Jan Cornall
Jan Cornall of Writer's Journey supports writers and creative artists of all genres through the long process of realising their artistic goals, through international writing and creativity workshops, journeys and mentoring services.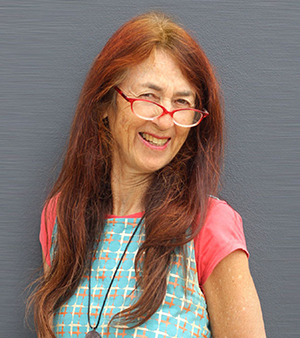 Based in Sydney, Jan has been awarded a number of grants and fellowships for her work and has written plays, musicals, screenplays, a novel, a collection of stories and poems and three CDs of songs.
Jan also loves to sketch and make artist books.
Browse Jan's work portfolio here. ... More
With a Master of Arts in Cultural and Creative Practice Jan has taught creative writing for nearly two decades at writer's centres, community colleges, universities (UTS, WSU) and writer's festivals in Australia and Asia. Using a technique she has developed called Meditative Writing, Jan takes writers deep into their creative source.
Dedicated to nurturing the unique attributes of each writer, her writing workshops produce startling results. Each year a number of Jan's first time writers go on to publish with major publishing houses.
Getting to us
ARRIVING & DEPARTING FROM Florence airportO
Our tour begins and ends in Florence. You can fly or train into Florence, or catch a bus to Santa Maria Novella Station in Florence and taxi to our accommodation. There is a direct train from Rome airport /Fiumincino to Florence that takes about 2 hours.
Accommodation
Palazzo Donati is a magnificent building located in the main square of the quaint and quiet village of Mercatello Sul Metauro, deep in the green hills of Le Marche.
Crossing the entrance door of this ancient palace of medieval origin means jumping in time and discover the authenticity of the Italian Renaissance. The long main corridor ends in a large internal garden, an oasis of peace among roses, fruit trees and ancient trees.
The Palazzo is divided into two parts, full of details and timeless charm, to be discovered climbing the large stone staircase leading to the first floor.
The left wing opens onto an elegant and spacious room, with Renaissance decorations while the right wing is formed by two floors. Composed of three double rooms and a bathroom, the left wing is perfect for moments of relaxing in the warm pastel colors.
The right wing is instead divided into two additional floors: the first floor consists of two areas used as a kitchen, one modern and the other with a rustic charm with an antique fireplace, from a formal dining room and two more informal areas, where you can spend pleasant moments in a family environment.
The first floor of the right wing of Palazzo Donati is also composed of two double bedrooms with 1 bathroom, a utility room with washing machine and iron.
On the upper floor, there are three double bedrooms, all with private bathrooms; the entire right wing is also equipped with central heating.
A fascinating place to spend holidays between slow rhythms, flavors and wrapping colors. The only issue here is having to pack up and leave....no-one wants to leave!
---
A village full of fabulous characters and timeless experiences –
---
Benvenuto nel nostro palazzo di famiglia- Luisa Donati
---
Accommodation
Map
Video
Summary
Booking