Singing and Sailing in Croatia, 2019
WHEN: 3/9/2019- 14/9/2019
WHERE: Dalmatian Coast, Croatia
COST: From $3980 AUD see details Book Now
Details
Accommodation
Map
Video
Summary
Booking
Details
Singing, Sailing and Feasting in Croatia
Join us on this 11 day singing holiday in Croatia and you will be..
Swimming in crystal clear waters
Daily singing with Stuart Davis
Listening and singing with Klapa groups (traditional and stirring choral music of Croatia)
Feast on fresh seafood or slow cooked meats, delicious fruits and vegetables in picturesque harbour konobas.
4 nights staying in boutique hotel in the very pretty town of Trogir
7 days of sailing
Moor in secluded coves and sing, swim and snorkel
Visit Unesco Listed Stari Grad – home to it's excellent local vineyards
Korcula Town's unique architecture and history
Explore Vis Island and it's fascinating fortress and tunnels
Concert in Trogir
Create a pop-up choir with Stuart; doing workshops with local Klapa groups, and singing in village squares, churches and bars wherever we go. The Create Escape and Stuart Davis have taken similar groups of singers to Italy, Samoa, Morocco, Spain, Cuba, Tonga, Bali and Vanuatu collectively and separately but in each case the highlights are always the informal singing that happens anywhere, anytime. The tour climaxes with a proposed performance in the glorious Trogir castle.
" As a western tourist I find it's more or less impossible to get 'inside' the place you're visiting, to break down the wall between 'tourist' and 'local', and to meet people on a 'real' level. On the other hand, traveling as a choir means wherever we sing the locals are as interested to know about us, as we are in them. And the reaction of the audience in every case is priceless - they are simply amazed that a bunch of people have come all that way to sing for them. This in turn means that every time we sing it is incredibly uplifting for us as well"- Stuart Davis
Stuart provides online scores and recordings before the trip so we can create an instant choir from day one.
Outline of Programme and Travel Information.
Closest airport is Split, Croatia. It is approximately 20 mins taxi drive away from Trogir.
3 September. Trogir (near Split)
Make your way to our hotel (TBA) in Trogir.
Meet up in lobby at 4pm
We will spend these first few days settling into the Croatian way of life. Wandering the beautiful narrow streets, eating in Konobo's and singing in extraordinary spaces. During these days we will also spend time with a local Klapa group who will be teaching us a few songs. We hope we will learn them well enough so we can sing with them in concert on our last night in Trogir
7-14 September. Sailing the Dalmation Coast.
Our route will be a Captain's Choice based on keeping us away from crowds and giving us an optimum experience of the stunning Dalmatian Islands.
See details below of some the islands we may visit. There will be singing rehearsals on board and on land. Sailing time each day will vary but usually no longer than 5 hours between islands.
On the islands there will be time to explore individually and at times as a group, meeting up in gorgeous places for singing reheaasals and eating meals and listening to local Klapa groups when possible.
13 September. Trogir
We will arrive back in Trogir mid morning and stay on board in Trogir that night. We will have a concert in town that evening.
14th September. Trogir
Pack up, say goodbye and prepare for your onward journey with a bag full of songs and a heart full of joy!
About Klapa Music
If the coastal regions of Croatia had a musical trademark then it would undoubtedly be the stirring sound of the Klapa. Performing a capella songs with delicate harmonies, the Klapa is basically a small choir numbering anything from three members upwards. Often made up of informal groups of friends with an instinctual feel for age-old Adriatic melodies, these choirs are an important focus of local life and a source of considerable pride for the communities they come from.

Typical Klapa songs focus on traditional Adriatic concerns: 'falling in love over a plate of squid', going night fishing with the lads, or pining for partners who are sailing the seven seas.

Although Klapa harmonies tend towards the smooth and soulful, the style retains a raw emotional edge: hearing a Klapa perform live – whether on stage at a festival or simply serenading themselves at the table of a Konoba – can send shivers down the spine.
Trogir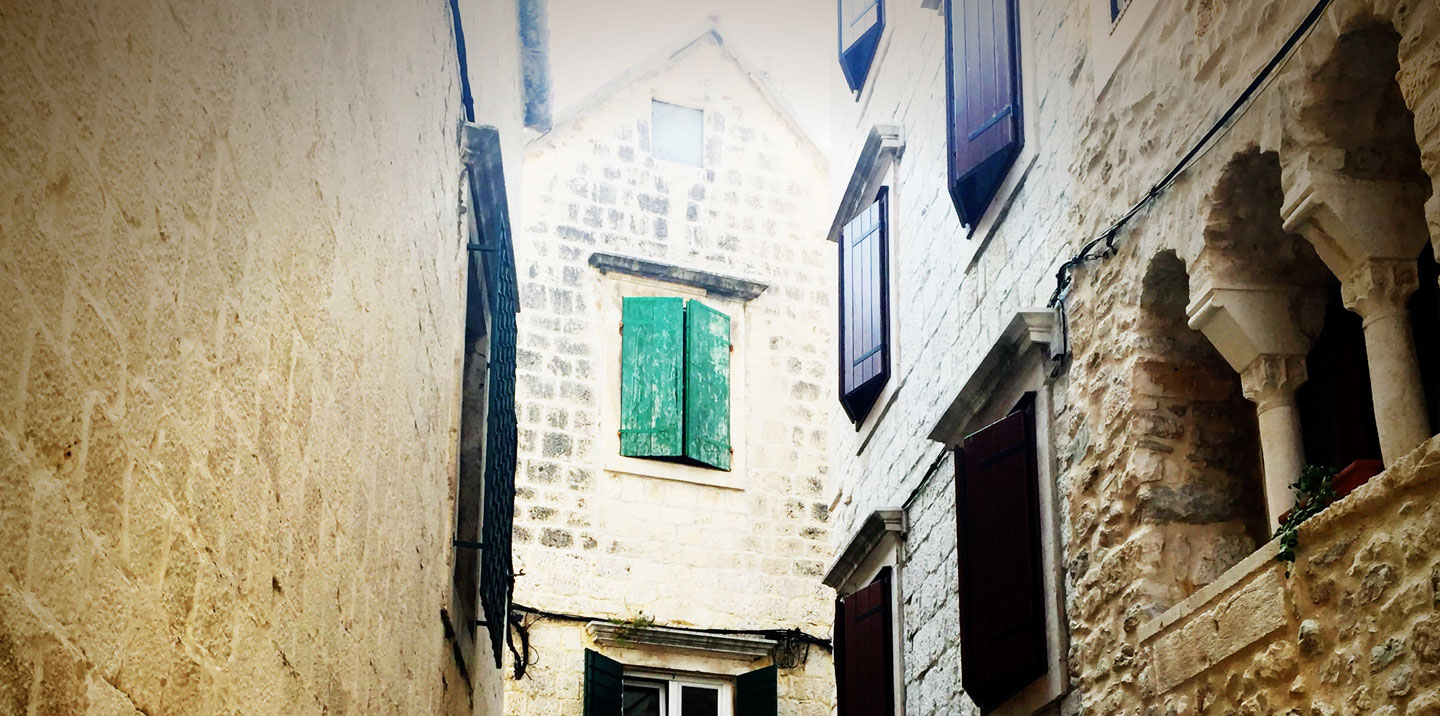 The old town centre is surrounded by walls and features a well-preserved castle, tower and numerous other buildings and palaces dating from the Roman, Gothic and Baroque periods. The town has been added to the UNESCO World Heritage List.

About the islands
Sail with our Master Skipper and experience the very best of the Dalmatian Coast and its' delicious food, wine and song.
The central and southern Dalmatian islands of the Adriatic have long been a highlight on Croatian yacht charter, and offers the perfect balance of secluded bays where you can anchor in a tranquil, idyllic setting, while also enjoying the busier islands such as Vis, Hvar and Korcula; steeped in history, culture and nightlife. With over 1000 islands to explore Croatia's is ideal for the most novice of yacht goer and is ideal for a first trip.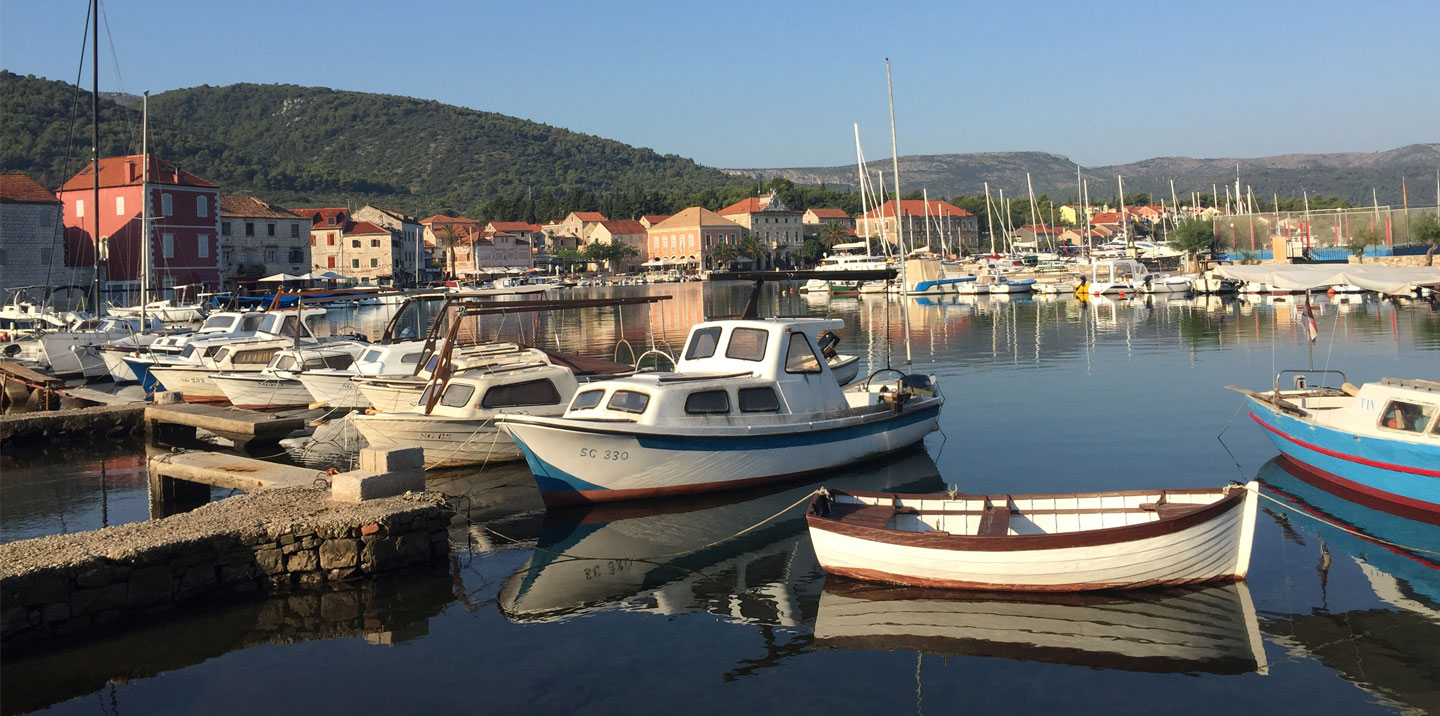 Stari Grad
Stari Grad is one of the oldest towns in Europe, and is ideal to wander the timeless streets, browsing the many local craft stores and get a taste of the finest cuisine in Croatia. The town clock tower and monastery are highlights of the unique architecture and offer peaceful spots to while way the afternoon. A key feature of the area is the Stari Grad Plains, a UNESCO world heritage site, and is the ideal place to explore the towns signature vineyards and scenery. A short trip form here is Hvar Town, known for it's beautiful old fort, scenic surrounds and beautiful sunsets that have attracted celebrities and yacht elites for decades.


Scedro
Along the south shore of the island of Hvar there is the small island of Šćedro. Protected as a nature park, it is a beacon of untouched beauty and natural wonders. Scedro has long been well known as a safe harbour and so is very popular with the yachting crowd, with a beautiful restaurant serving delicious local fare. On the hill there is an abandoned village called Nastane, taking you back in time with picturesque stone houses and a glimpse of historic village life.


Korcula Town
Korcula Old is medieval walled city, positioned on an oval-shaped swelling of land pointing deep into the Peljesac Channel. The Venetian Renaissance architecture of the Old Town culminates in the splendid St Marks Cathedral, not to mention the intricate maze of streets surrounding it. Legend has it that Marco Polo was born in Korcula Town, with his house of birth sporting a panoramic view stretching from east to west. Korcula Island is also known for excellent wine, with local vintage Posip served at state and diplomatic banquets. Reminiscent of Dubrovnik, Korcula Town oozes Mediterranean charm, with a glamorous selection of bars ensuring a vibrant atmosphere.


Vela Luka
Vela Luka is considered one of the sunniest towns in Croatia with over 2500 hours of sunny weather annually, as well as being one of the largest towns in the Adriatic islands. The diversity and richness of the cultural inheritance of Vela Luka can be seen all around, from the natural wonder of Vela Spila, a prehistoric cave dwelling perched on the cliff tops, to the traditional Moreska Sword dance celebrated weekly in the town square. Enjoy a relaxed night exploring the town and partaking in some of the best cuisine in Croatia, with an array of restaurants and bars to choose from.


Vis Town
Moor here and take to the island roads to explore this magnificent island. As one of the driest islands in central Dalmatia, Vis is home to the best wineries in the region and are well worth exploring. Most notably the iconic Croatian Plavac grape will acquaint of a true Croatian delicacy. Alongside this, Vis Island is immersed in a long and varied military history. The bunkers and nuclear shelter dotted around the hills offer a real chance to discover the history of communist Croatia, while the seaside Vis Town allows you to kick back and relax, enjoy a coffee, explore the monasteries and wander the preserved Old Town.


Sesula
Croatia is known for its inviting and warm turquoise water, and nowhere else will you find this beautiful sight showcased better. The multitude of secluded bays and hidden coves will make for an ideal swim stop, or intimate evening under the stars. Sesula is revered as one of the top secluded bays, featuring stunning sunsets and an idyllic setting, rounded off by an excellent authentic Croatian restaurant. Highly recommended.


Split
Split is known as the second largest city and one of the oldest cities of Croatia. Recognized as being over 1,700 years old, the construction of the emperor Diocletian's Palace in 305AD put Split on the map, and this beautiful relic has continued to single Split out as a sailing holiday highlight in Croatia. The bustling cafes and boutique shopping available in the quaint cobbled back streets stand in perfect contrast to the local designer stores and award-winning restaurants on the tree lined promenade. Split is a perfect town to kick-start your Dalmatian voyage, or say farewell to the glistening Adriatic.
Group size approx. 20-26 pax plus crew.
Cost
<>
Pre arrival payment.
Grab the Early Bird rate!
AUD
Early Bird $3980
From 1st Feb 2019 $4350
Single supplement $ 900

Payment on arrival.
Additional cash payment on arrival to tour guide of 2000 Kuna (equals approx. $AUD 400 at time of publishing)
Single supplement. The Create Escape does not require single travellers to pay a surcharge for travelling alone. We will arrange for you to share accommodation with another traveller of the same gender. If you would like a guarantee of a single room, a single supplement is payable.
20% payable at time of booking and payment installments plan available.
Full payment no later than 60 days prior to departure.
* Exchange Rate. The Seller will cover variations of up to +/-3% of the quoted exchange rate. See Terms and Conditions.
Testimonial from 2017
What a fantastic holiday it was, sharing so much fun, seeing the sites, experiencing the music, singing with you all and of course our life together on the Otac Ivan with wonderful crew.
Here's a quote below that sums up all for me and I hope I will keep in touch with many of you if not all.. - Liz Grigg
"there are good ships and wood ships and ships that sail the sea, but the the best ships are friendships May ours forever be!"

Stuart Davis has been directing choirs in Sydney, Australia for 25 years. He also performs in a couple of small groups (The Lounge Quintet). Currently he directs 3 choirs and co-ordinates 3 other choirs in and around Sydney.
Stuart says, 'I'm indebted to Tony Backhouse and his very influential choir 'The Cafe of the Gate of Salvation'. It was here that I learned how a choir can be a village in itself - a real community, almost a family'.
'Every choir is unique, and everyone gets something special out of it, but the common things are sheer joy, relaxation and community. It's very common to hear from members that choir night is the highlight of their week.In fact many people have trouble sleeping after choir choir they are so wired!'
The choirs all perform regularly, always raising money for something or other. I believe in what I call 'Double Happiness' - do what you love but make sure it has some other positive effect somewhere else. Between the choirs, over the years, we have raised over $50,000 for various causes.
Stuart is a lucky guy - 'my job gives me immense joy, and I know that every week hundreds of other people are getting a similar dose of happiness. Plus I know there are villages in Africa, New Guinea, India and Vanuatu who have classrooms, wells, toilets and books just because we put on a few concerts'.
For more information about Stuart Davis you can visit his website by clicking here>>
For further travel information click link below
Download travel information here>
Accommodation
Map
Video
Summary
Booking