Return to Creativity Retreat - Bali 2023
WHEN: 6–16 April. 2023
WHERE: Candidasa and Ubud, Bali
COST: From €1950 twin share, see details below
Details
Accommodation
Map
Video
Summary
Booking
Details
Return to Creativity Retreat - Bali 2023
With yoga teacher and artist, Oana Deac
" Creative work is a gift to the world and every being in it. Don't cheat us of your contribution. Give us what you've got." - Steven Pressfield
Long term Bali resident, Oana Deac, invites you to join her for a 10 Day Yoga and Creativity immersion meant to bring joy and vitality into your body, heart, and soul.
Through yoga practices, creative activities, cultural experiences and connection with nature, you will be able to tap into your creative energy and access the artist within.
You will leave inspired and curious to explore more of your creative potential in your daily life.
Come explore, experiment, and open up your creative channels!
Your day will be a blend of movement and creative activities which will stimulate your senses and nourish your soul, relaxing time, and exploration of Balinese culture and nature.
The yoga sessions based on the classic Hatha Yoga style will be adapted to the level of the group so everybody will feel welcome and comfortable practicing together.
The creative workshops are suited for everybody and selected with care so that at the end of this journey you will go back home with a wonderful collection of pieces you have created with your own hands.
No technical skills or previous artistic experience are needed for this journey. You will befriend your inner creative muse through all the wonderful activities I have prepared for you during your stay.
This experience is for you if you —
Feel stuck in your life right now and want to get inspired to feel alive again
Are looking to reconnect with your creative energy and nourish the artist within
Dream of expressing yourself and creating with your hands but don't know where to start or don't have time, courage, nor confidence to do it
Love traveling and discovering new cultures, love arts, and want to have an exotic experience while exploring beauty, doing yoga, and eating amazing food
Want to take a break from the daily life and try something different, get out of your comfort zone and explore new things
Are creating regularly but want to explore new techniques and modalities and get inspired.
Highlights of the journey —
Yoga classes to help you open up your creative and intuitive channels
Tools and techniques to inspire you to bring more creativity into your life
Hands-on creative workshops to help you get in touch with the artist within
Inspirational nature trips in the rice fields and by the sea
Relaxing time by the pool, massages, and yummy food
Personal insides from the organizer who has lived in Bali for 11 years already
Unique accommodation with lots of character where you will feel at home
Visits to special places to help you emerge in the Balinese culture and tradition
Lots of fun and lots of coconut water!
The locations
We will start our journey with 3 days by the sea in the east part of Bali, in Candidasa.
Nestled in the serenity of its own coconut grove with a private beach perfect for swimming and snorkeling far from the tourist enclaves of the south, our accommodation will be the best place to get settled into the climate and the space and get over the jetlag if you are coming from afar.
There are 5 stylish and comfortable rustic bungalows in an expansive tropical garden, each with an ocean or garden view and easy access to the private beach area. Each bungalow has 2 up to 3 rooms all equipped with double beds which can be used for sharing or single occupancy. Each room is decorated in a different way and has its charm, inviting you to feel just at home.
The large and spacious ocean-facing studio will be our home for the morning yoga practices and the creative workshops during the day. The restaurant is inspired by the traditional flavors of East Bali with produce and ingredients sourced locally from the surrounding area.
Our next 7 days will be spent in Ubud.
Apart from being the Mecca of Yoga and health, Ubud is also the artistic center of Bali. It is a creative vortex abundant in art, culture, and beauty. Balinese people express themselves through arts in their daily life, from the food they serve to the offerings they make for their Hindu Gods. Creating with their hands is a form of meditation and it takes place daily in every household.
Our new accommodation is an eco-resort located 10 minutes outside of Ubud center, in the middle of the rice fields, where the green of the rice fields meets the serenity of the blue sky and the sounds of nature. The retreat has a pool surrounded by a beautiful garden, a hot springs pool suited for watsu treatments, and a sacred stone chamber that is very unique.
The combination of classic design and spaciousness of the modern comfort of the rooms is carefully thought out. The use of up-cycled wood material as part of the interior also helps to build the feel of a comfortable and warm space. There are rooms with twin beds available for sharing or double beds for single occupancy.
The Program
The program schedule is available upon request.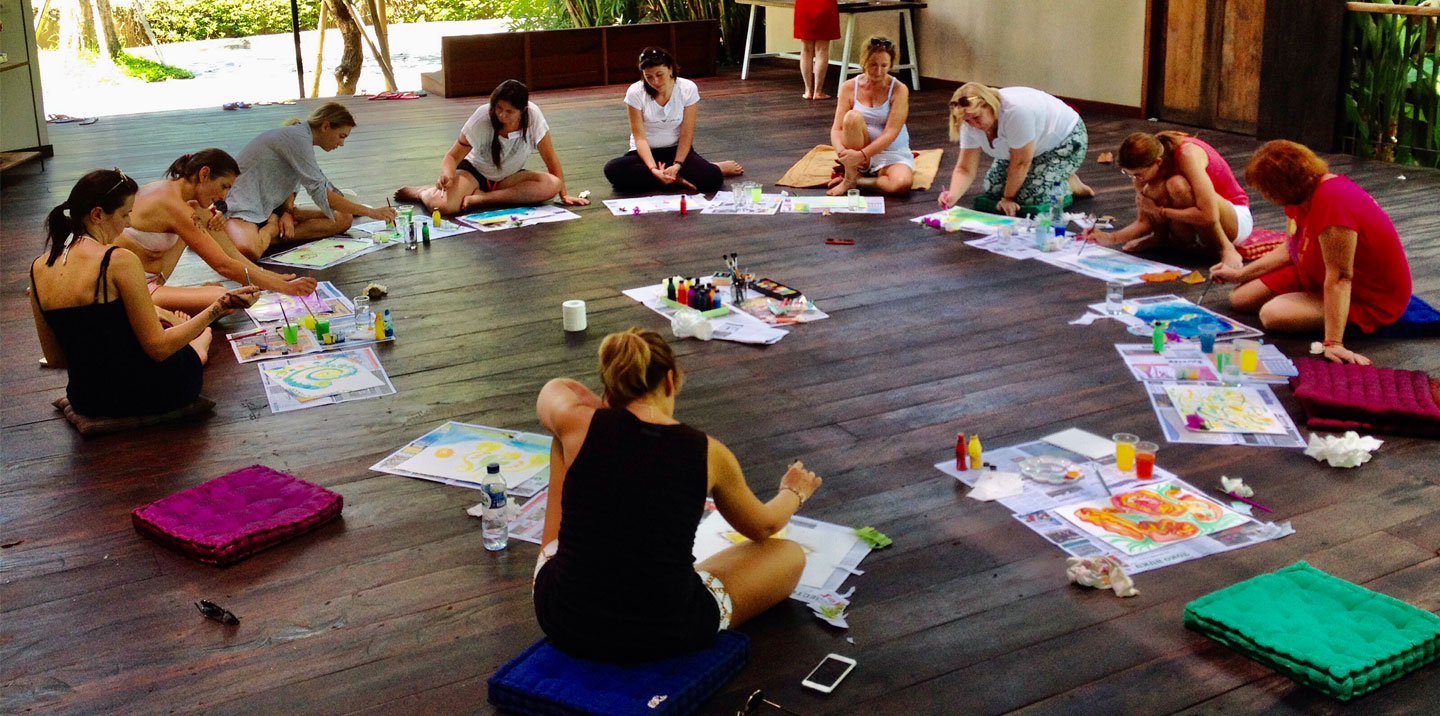 The Cost:
Early bird price till 15th of December 2022
Single occupancy 2295euro
Double occupancy 1950euro
Normal price after 15th of December 2022
Single occupancy 2495euro
Double occupancy 2150euro
About Oana Deac
We first met Oana when she had just started her healing and creative journey in 2011, she had recently moved from Amsterdam to Bali. She has practiced and studied Yoga and Ayurveda and emerged herself in painting, and other creative activities, while working with local artists and craftsmen. In 2020 she completed an advanced Creativity Coaching Training and became passionate about helping people establish personal daily practices around Yoga and creativity. She loves dancing, nature walks, storytelling and creating with her hands. She is a curious person and loves trying new things and discovering new places in Bali. Her mission is to support people in accessing their full creative potential using Yoga, Ayurveda and creativity tools so they can live more purposefully and feel more alive.
It has been inspiring witnessing her develop into the fabulous teacher she is today and feel excited to present her to you on this retreat.
You can find more about Oana' journey here https://www.oanadeac.com/about-oana-deac
Accommodation
Map
Video
Summary
Booking