Creativity flowed and some dark history explored.
Our little writers group had a wonderful bespoke experience in May working with two brilliant teachers in two gorgeous Palazzo's in two very different locations. They were totally spoiled!

The writers came together to unlock their writing talents and be inspired in the birthplace of modern literature. An aside to this was a wish to discover a little about the connection of a nasty ancient relative from 1300's of our host in Mercatello and the great author of medieval times, Dante Algheri! Don't worry the family has grown to be hugely supportive of the arts in more recent times.

Thankfully before we left home our author and teacher from Australia, Jan Cornall had sent out some suggestions to get the creative juices flowing on the journey to Italy.

Then our writing retreat began in earnest in the sumptuous surrounds of Palazzo San Niccoló in Florence with local author and teacher, Lisa Clifford. Lisa has lived and worked in Florence for the past 25 years and she guided us smoothly and humorously through our shy and somewhat reserved start and walked us through some fascinating backstreets and some of her secret locations where we were inspired to get on and write.
Following on from Florence we took a 2.5 hour drive with our italian partner and host Luisa Donati to her family Palazzo in Mercatello sul Metuaro. Over very warm hospitality and a glass of prosecco and delicious dinner in the delightful home she shared more nasty stories about what the distant relative of the Donati's did to poor old Dante! To learn more about this story… well you'll have to come with us on our next journey to Tuscany.

After delicious leisurely breakfasts in the Palazzo we had sessions with Jan, beginning with her soothing writing meditations and expert skills and tips, words and emotions flowed out in buckets and later in the day so did the vino!!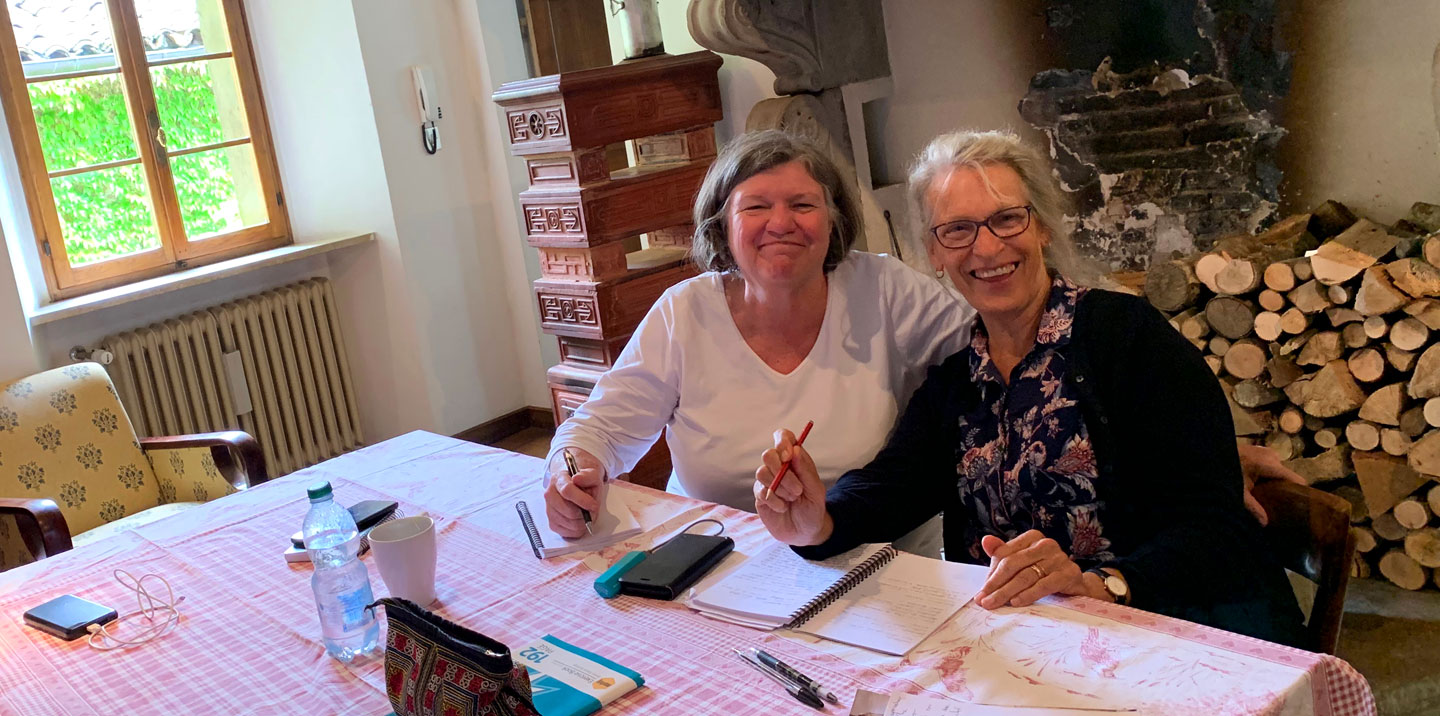 This picture was taken in a little room off the kitchen in Palazzo Donati straight after a morning session with Jan Cornall. These sessions were like gold; the words were pouring out and the emotions and all the senses were charged.
The only problem we faced at the end of our journey in Palazzo Donati was that no-one wanted to leave.. we wanted to stay on, keep writing, and keep exploring this magical medieval village, the food and the warm hospitality of the people. We will factor in an add period to do just that next time ;-)
Would you like to do this event ? Do let us know.