by:
Jennifer Richardson on
An immersion in song, food and culture!

This year our big singing in Italy event was a cultural and singing immersion spent in 2 stunning locations and our lucky group of singers were given a real treat with 3 brilliant maestros including our much-loved Tony Backhouse.

The Create Escape group and Animae Voces combined choir with directors, Tony Backhouse and Edoardo Materassi after our performance in Florence. What a grande gruppi!
Tony was in good form and instantly had the group sounding like a professional choir on tour! This really took our local maestro in Mercatello, Guerrino Parri by surprise as we had discussed the concept… 'a bunch of people come together from all over Australia, NZ and beyond as strangers and learn a repertoire'… 'some of them will be stage performers and others are shower singers' but you never know, maybe it will be good enough for a concert at the end of the week.
Palazzo Donati
and the village of Mercatello provided a warm and welcoming cradle for our first 6 days. The accommodation included Palazzo Donati and Palazzo Ducale and gorgeous apartments throughout this quaint medieval village of Mercatello.
Although a little sceptical at first we were soon to find the whole village opened their Bars, Pizzerias, Ristorantes, Gelatarias and their arms and voices for us.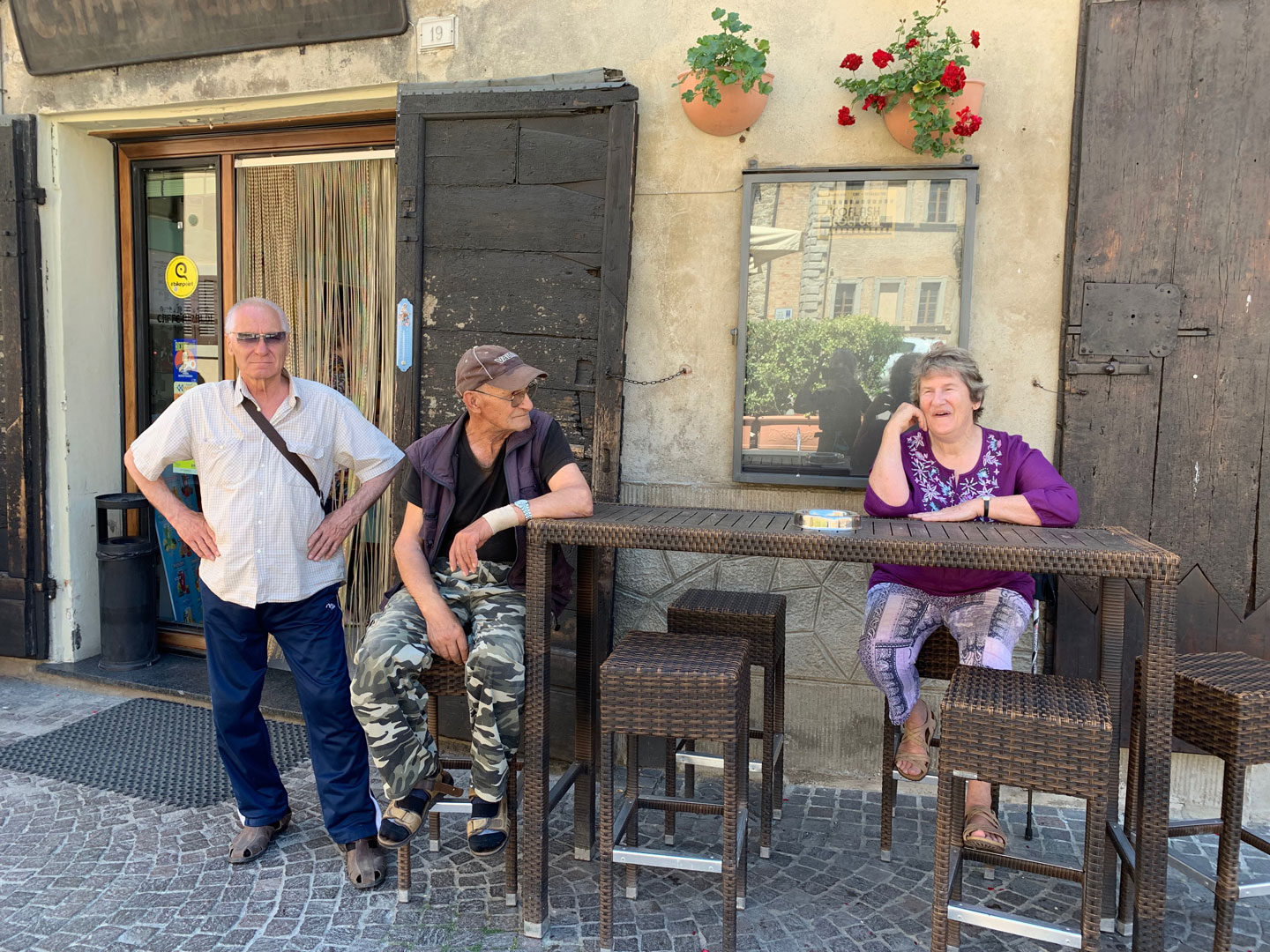 There were various forms of transport, from private charter to public bus to Urbino and even a tractor ride to take us to dinner!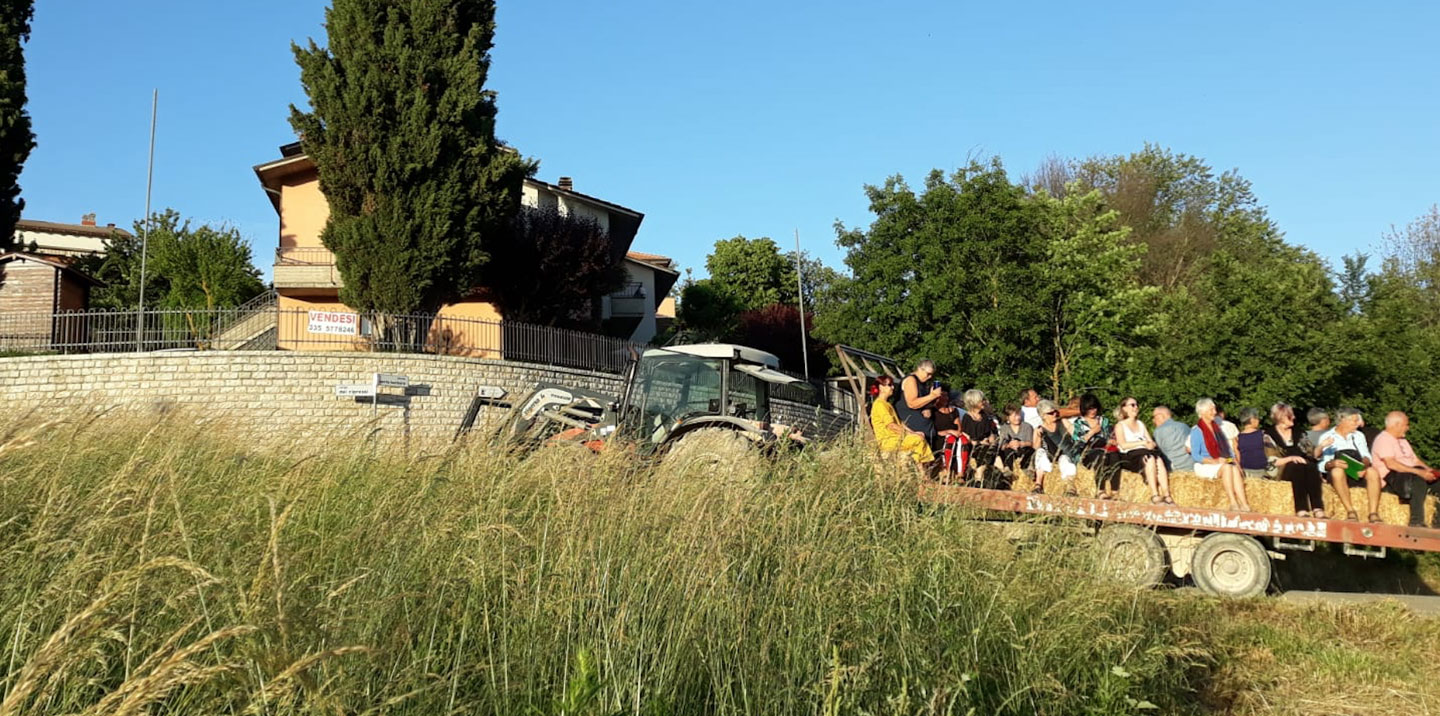 We found Guerrino to be a phenomenal choir and music director and it was a thrill to see our group of passionate singers of 'american black gospel' take to singing a completely different repertoire. I'd been talking with Guerrino for many years about this dream to bring people here to this delightful village and to work with him .. this was a dream come true.
Hmm - It did not go unnoticed that he looked very similar to Tony (perhaps a slightly younger version).. they even wore similar clothes!
Take a look at the video of our itinerant concert around the village of Mercatello sul Metuaro. This was the Anteprima performance to launch the annual summer festival of Musica e Musica, curated by Guerrino Parri.


After this lovely concert where the Mayor and a large proportion of the village turned out to check us out we celebrated with a shared meal. Guerrino's choir and a group of us prepared our meal. Sally Battson's pavlova's were won the evening! You'll have to ask her the story of the making.. it's a story in itself.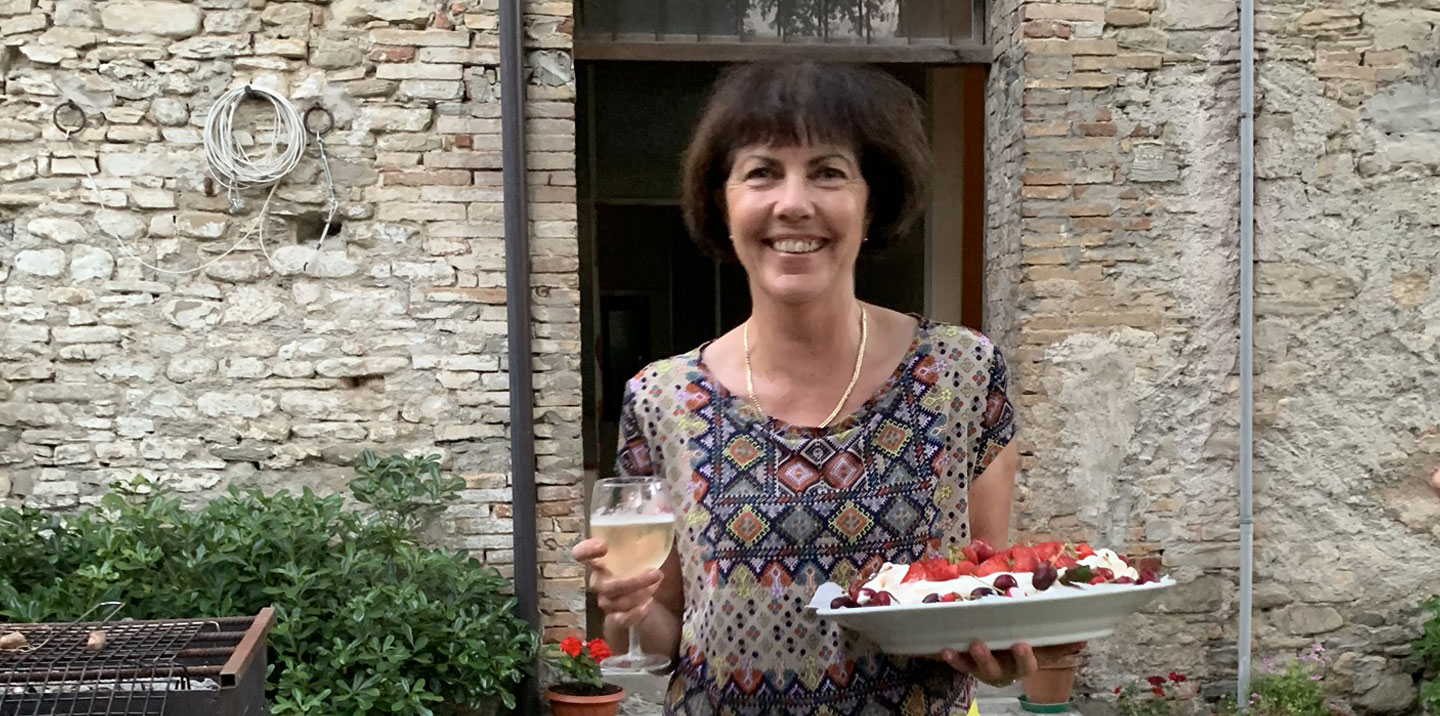 The following 6 days were spent in Florence. A different scene after the gentle village immersion in the countryside of Le Marche. But how could anyone not love the city of Florence? We stayed in another gorgeous Palazzo, Palazzo San Niccoló, in the artisan's area near the Arno River.

One of our most adored directors, Edoardo Materassi was our local teacher in Florence this year and he got us inspired and energised in the mornings and evenings with fun warm ups and exquisite songs. We were joined by members of his brilliant choir Animae Voces and worked towards a concert in the superb acoustics of the magnificent Chiesa Valdese.

Edoardo's choir equally loved learning the spontaneously joyous gospel under the skills of the legendary Tony Backhouse. They were singing their hearts out!
And the concert? Well you can look and listen at some of the results of the concerts in both Mercatello and Florence in videos I posted on our YouTube channel. We play them over and over again because they are simply beautiful harmonies and delightful to watch.
Here's a link that should take you to the playlist.
YouTube >
If you are green with envy, don't fret, we are working on bringing Edoardo to Australia for some workshops and there will be another Italian singing immersion coming up in 2021 with Edoardo and Guerrino.
There's a similar type of event happening in Buenos Aires in 2020 with Tony Backhouse, Eric Dozier and Gerardo Flores! Take a look at The Gospel Explosion in Argentina >>
We also have our Singing in Sardinia and Corsica event coming up next year.. you better book now for that one it is selling up quickly. Singing in Sardinia >>
Or let us know of your interest now for 2021. >> Contact us