by:
Jennifer Richardson on
Ok I'm living in Indonesia and here is one of my all time favorite versions of Gado-Gado that I found online! It's so good I had to share it with you, it's by Wil and Wayan.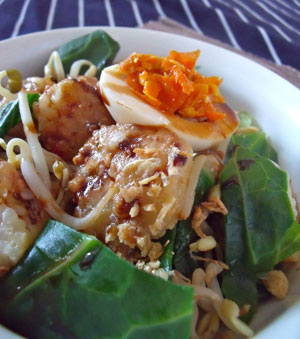 Gado-gado is one of Indonesia's most famous dishes, and with good reason– it's delicious! The combination of sweet, spicy peanut sauce with crisp vegetables and soft potatoes or congealed rice really is something a bit different the first time you try it, too.
There is no set way of making gado-gado. In fact, the word 'gado-gado' has another application in the Indonesian language for talking about things that are 'a bit of a mix'. For example, if someone speaks a mixture of Indonesian and English in one sentence, people might jokingly refer to is as 'bahasa gado-gado' (gado-gado language).
So, in keeping with the spirit of gado-gado, please see this recipe as flexible. Once you have the peanut sauce, try using it on other vegetables, too. The only rule is to keep the vegetables crispy and have something else soft in there to soak up the sauce!
Ingredients
Vegetables:
250g beansprouts
250g green beans
100 gr cabbage
Peanut Sauce:
125g roasted or fried peanuts
1 small chilli
2 cloves of garlic
25g palm sugar (or 2 tbsp brown sugar)
2 kaffir lime leaves
2cm kencur (white ginger – if you can get it)
salt and pepper (to taste)
Nice things to mix it up with (any or all of the below):
boiled new potatoes (quartered)
lontong (congealed steamed rice)
fried tofu
fried tempe
boiled egg
Instructions:
Either blanch in boiling water or steam the vegetables then leave them to one side.
Fry the chilli, garlic and kencur over a medium heat for a couple of minutes then remove from the heat and grind in a pestle and mortar, slowly adding the peanuts and continuing to grind until it is ground finely. Mix this mixture with two cups of water then transfer it back to the pan.
Bring the mixture to the boil then add the kaffir lime leaf, palm sugar, and salt and pepper then simmer until thickened slightly, stirring constantly.
Once the mixture has thickened, remove it from the heat and leave for at least a minute to cool.
To serve, put the vegetables in a bowl along with the other ingredients you would like to add (potatoes, longing, tofu, tempe, egg) then pour a good few spoonfuls of the peanut sauce over the top and mix it all together.
This can be served warm or cold but always make sure you add the peanut sauce just before you serve it. A sprinkle of fried shallots or peanuts on the top gives the texture a little more interest and a handful of prawn crackers gives it a real authentic touch. You could also drizzle some kecap manis over the gado-gado for a bit of extra sweetness or add some sambal (chilli paste) for a bit more punch.
Salamat Makan.
Click here for more recipes from Wil and Wayan >>
Email us if you would like to learn Balinese cooking with experts in Bali (and all there is know about making the perfect cup of coffee!)>>