The Singing in Sardinia and Corsica trip that was –
The list of really great things that happened on this trip is long but here are some highlights–
We kicked off with a delicious welcome seafood dinner under the olive tree in Olbia.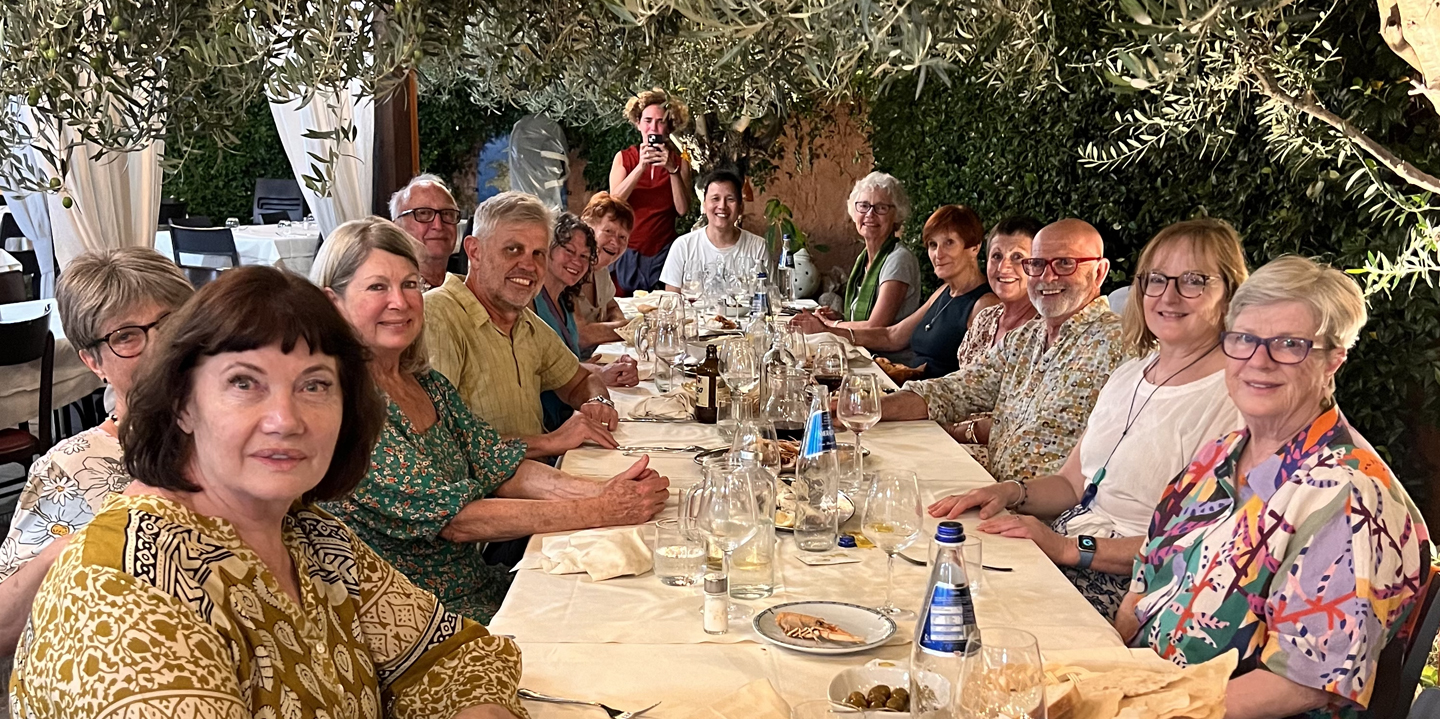 We travelled south the following day and popped into visit the ethnographic costume and jewellery Museo in Nuoro where we captured some history and a good insight into the amazing culture and story of Sardinia. It gave us a backdrop before we immersed ourselves into our journey and all the fabulous characters we met along the way. We even sang in the courtyard there where a member of their staff joined in, that was pretty cool. After that, although a tourist thing, the shepherds lunch in the forest with waiters joining together as a 'tenore' group and singing to us was pretty sweet.
This is still just day one, we then arrived and stayed in Cala Gonone in a hotel that is right on the marina. It's not 5* but the experience of staying there certainly felt like it was. Rooms were simple and sweet and their spectacular rooftop restaurant with an awesome view across the bay for breakfast and dinner was a winner!
The four days in Cala Gonone went fast with swimming in the bay and singing in Don Puggioni's cute little church. Although day two rehearsal in the church was nearly canned because Stuart had been teaching us the song, Bella Ciao. This song calling for peace is again aligned with the left side of politics and Don Puggioni was nervous that people in the village had heard it and could think that he is associating with a political party.We claimed our ignorance, he forgave us and all was sweet by the time we met Donato, the local choir director, phew. Donato is delightful, his instant recognition of what we were doing, the holiday choir concept, and his choir's enthusiasm to join us was priceless!
The concert in Cala Gonone with Donato's superb choir started out with our now best friend, Don Puggioni, blasting out on his megaphone for the locals to join us for a concert in his church. So we got a full audience!
Perhaps he was lubricated by all the warm and genuine hospitality of singing and dancing and home-made wine that flowed outside the church in the little courtyard after that wonderful concert, but he surprised us with insisting that we sing Bella Ciao with the crowd outside the church, he made us laugh.
The memory of that night with the table that popped up in a flash straight after the concert with their cheeses, olives and those fabulous almond and pistachio meringues, mmm, and dancing and singing. Seriously I'll be back there as soon as I.. can arrange it!
The next day our planned boat trip got canned due to choppy water, so we made a trip to the Grotto Ispingoli. This a really impressive set of caves and the guide insisted we sing in there where we had an instant appreciative audience. We followed that by lunch nearby in a Michelin restaurant sitting at long tables on the large terrace overlooking the spectacular mountainous scenery. Who did we see there.. Don Puggioni. He got a big toast and stood up to take a bow across the other side of the terrace.
Later that evening we went back up the mountain to Dorgali to meet Donato's male choir, those hard working muscular men standing there and singing the most exquisite harmonies! Really it made you weep.
Stuart was thrown in to sing too. It was followed by traditional dancing, tenore singing and then the walk around the corner to congregate under an orange tree in a courtyard where tables were set up and out comes the home made wines and all the delicious foods and of course more singing and dancing.
It felt a little sad to leave Cala Gonone. But off we went to Alghero stopping in Bitti the home of "tenore" singing where we visited the cute little "tenore" museo and had the young tenore singers turn up and sing for us and then our own Jerome joining in with them. That blew us all away.
Next stop Alghero, walking along that superb "lungomare" along the ocean and watching the sunset was sweet. The dinner in the square with the waitress dressed in a sexy corset who was trying to pull a shifty with me when it was time to pay then Luisa let her have it.. well that was an interesting and memorable evening. Haha.
Exploring the ancient Nuraghe just out of town, and seeing how brilliant they were with architecture and village design way back in the bronze age was pretty damm impressive.
Leaving Sardinia and taking the ferry to Bonifacio and seeing that spectacular cliff-face with the Citadelle perched way up top was a good intro into Corsica.
After a good look around Bonifacio we hopped back on our bus with Davide our driver and arrived in Propriano. Staying in that quirky hotel perched on the cliff with the most extraordinary view of the intense blue shades in that ocean below took my breath away. And then walking down the garden path and landing on our own sandy beach and seeing the look of sheer delight on the faces of our group as they plunged into that water made my heart sing. That evening having dinner in the taverna by that same little beach at sunset felt like something out of a movie.
The next overnight stop was Ajaccio, it was brief, just enough time to take a walk around and get a drink on our new rooftop bar and have dinner in town.
We were on our way north to Calvi to settle in for 5 days during the Rencontres de Chants Polyphoniques festival.
Calvi is a beautiful town with soft sandy beaches, a marina bay with superyachts of course and on top of the hill stood the magnificent ancient citadel perched like a cherry on top. So the next days were spent singing, swimming, pop up performances and attending concerts in that citadelle cathedral at night. I think we all got thunder thighs walking up and down those steep rough cobblestone pathways and stairs everyday as the Citadelle was where all the festival concerts were taking place.
My personal festival highlights were the Trio Samaïa, Parvenn & Ilya Khan and The Basa Ahaide and the young Corsican group, Una Fiara Nova. Really diverse world music from talented professionals.
We had two great group meals in Calvi, the first was a delicious lunch in our hotel restaurant and the second at an unpretentious little pizzeria, where the owner and the chef went all out to please and impress us with a 4 course banquet.
But what made this trip stand out was the team, Stuart Davis has such vibrant energy .. He had us singing and signing up for morning swim squad set up within minutes, as well as pop up singing sessions in all locations. Donato, our local director was brilliant, so warm and welcoming and offering us such unique local experiences that made And having Luisa on the team and assisting me before and during the trip was so gold. Big thank you to both of you.